Matt Brislawn also performs live in other forms.
Follow me on Nostr (npub)



BRIZBOMB: real time experimental visual audio

One human and one rack - All audio & video are generated live, in real time, all in the analog realm - with no edits, no overdubs, no computer, no keyboards, no samples, and no pre-recorded material.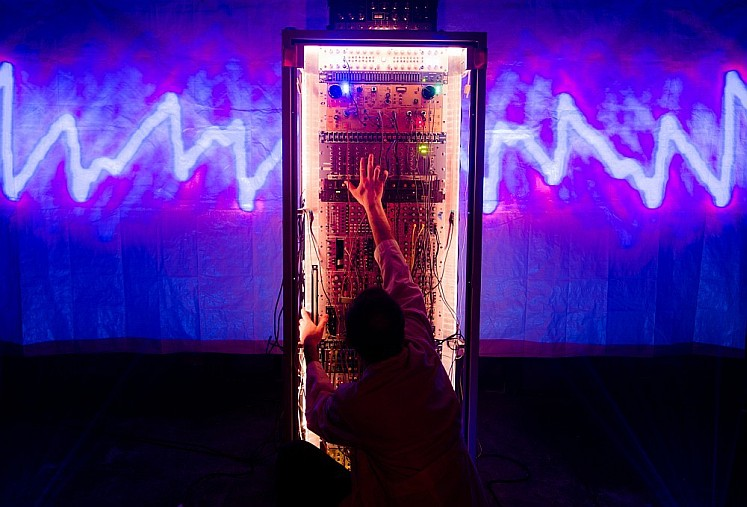 Photo by Robert Delahanty


A mellow track from 1401 2xLP - Released in 2014.
A track from 0909 LP - Released in 2009.
A live performance track from 2008.

• You can find and purchase releases from SatsCrap or Discogs.
• Contact for bulk purchase of any merch available.



You can search for out of print releases available at discogs.

BRIZBOMB 1401 12" 2xLP $20 USD
Gatefold double 12" vinyl LP record.
Recorded in 2014 January.
8 tracks, 80 minutes.
Limited release of 300.


Short preview of select tracks:



BRIZBOMB 0909 12" LP FACTORY SECOND $10 USD
Clear vinyl 12" with 11"x17" color poster.
Recorded in 2009.
7 tracks, 40 minutes.
Factory second - slightly defective pressing - pops and vinyl fogging.
There are 2 silver marking on the center label to indicate these as a factory 2nd.




BRIZBOMB 1107 C-42 cassette
Released by Fabrica Records in 2012.
Pro-dubbed high-bias chrome cassette.
6 tracks, 42 minutes.
100 made.







BRIZBOMB 0909 12" LP
Clear vinyl 12" with 11"x17" color poster.
Recorded in 2009.
7 tracks, 40 minutes.
Limited release of 126.






BRIZBOMB SMR009 German Import C-60 cassette
Released by Soundo Maso Records in Germany in 2009.
Two 30 minute tracks.
60 made.




BRIZBOMB 0807 mini biz card MP3 CDr $5 USD
Recorded in 2008.
One 20 minute non-stop MP3 track.
37 made.



BRIZBOMB 0803 CDr
Recorded in 2008.
One 41 minute non-stop track.
Repressing of Somnolent Shelter Records SSREC#006 originally released in Poland.



BRIZBOMB 080218A live mini Cdr
Recorded LIVE @ The Tube in Portland Oregon USA.
One 10 minute track recorded 2008 February 18th.
20 made.







BRIZBOMB CT05 cassette
Released by Cute Tapes in 2007.
Two long tracks on recycled tapes.
20 made.



BRIZBOMB KBOO live 070315AP01 CD $5 USD
Recorded live on the air at KBOO 90.7FM in Portland Oregon USA in 2007.
54 minute non-stop improvisational track.
Profession CD replication pressing of 1000.



BRIZBOMB BDR048 CDr
Barfing Dagger Re-Recordings release from 2007.
9 tracks from 2005 & 2006.
? made.



Live colab with Pulse Emitter, [view], and BRIZBOMB mini CDr
Recorded live at Ground Kontrol retro arcade in Portland Oregon USA 2006 December 3rd.
One 20 min improvisational track.
Under 100 made.



Pulse Emitter, [view], BRIZBOMB – Split CDr
Released 2006 December 3rd at Ground Kontrol retro arcade.
3 tracks, one by each artist, 55 minutes total.
Limited edition of 30 numbered copies.



BRIZBOMB 0608 CDr
Released in 2006.
12 tracks about 74 minutes total.
Under 100 made.



BRIZBOMB 060807AT01 mini CDr
One 15 min track recorded in 2006.
30 made.



BRIZBOMB 0510 CDr
First release from 2005.
9 tracks, 50 minutes.
under 50 made.



BRIZBOMB T1 T-shirt $10 USD
Black,White,Gray.
L,XL,2XL,3XL available


BRIZBOMB T2 T-shirt $15 USD
Dark gray only.
L,XL,2XL,3XL available


DATES
YEAR-MONTH-DATE (International Standard ISO 8601)

F

=flyer

P

=photo

*

=pdf
(sometimes performs live in other forms)

2019-06: Vancouver WA USA @ Art At The Cave Gallery a short video from 2013 is on display for the month of June 2019.
2014-08-29: live Vancouver WA USA @ NW Couv Fest and BRIZBOMB 2xLP Record Release Show
2013-08-23: live Eugene Oregon USA @ 2013 Eugene Noise Fest F
2013-08-22: live Vancouver WA USA @ Kiggins Theatre F
2012-10-20: live Vancouver WA USA @ Westside Welding and Machine F
2012-06-30: live Portland OR USA @ 5th annual St. John's NoFest FB P
2012-04-06 to 2012-04-28: live installation Vancouver WA USA @ North Bank Gallery *
2012-03: Artist Residency @ WSUV - CMDC MUS 452.01
2011-08-25: live Vancouver WA USA @ The Space Art Collective F P P P P P
2010-08-07: live Vancouver WA USA @ Westside Welding and Machine F
2009-11-12: presentation and performance @ WSU
2009-11-07: live Eugene Oregon USA @ 2009 Eugene Noise Fest F P
2009-10-17: live Vancouver WA USA @ The Rocket House F P P P P P
2009-08-15: live Vancouver WA USA @ Westside Welding and Machine
2009-06-06: live Vancouver WA USA @ Westside Welding and Machine
2009-04-14: live Portland Oregon USA @ Dunes
2008-08-30: live Victoria CANADA @ Victoria Noise Fest
2008-08-28: live Seattle Washington USA @ Full Tilt F F F
2008-08-26: live on air Dark Woods Casino Party 9PM KAOS 89.3 FM Olympia WA USA
2008-07-12: live Portland Oregon USA @ Ash Street F
2008-06-21: live Portland Oregon USA @ No.Fest : Nu Music.Arts St.Johns F P
2008-05-06: live Vancouver WA USA @ Westside Welding and Machine F
2008-02-18: live Portland Oregon USA @ The TUBE P
2007-10-31: HALLOWEEN KBOO Boo Bash! live Portland Oregon USA @ Holocene F
2007-10-27: live Portland Oregon USA @ The Escape.
2007-07-20: live Portland Oregon USA @ Roseland Grill.
2007-06-30: live Vancouver WA USA @ Westside Welding and Machine F
2007-05-18: live Eugene Oregon USA @ 2007 Eugene Noise Fest F P P
2007-04-20: live Portland Oregon USA @ CACOPHONY F
2007-03-15: live on the air 11PM KBOO 90.7 FM Portland OR USA P
2007-03-10: live Salem Oregon USA @ Jaspers F
2007-03-08: live Eugene Oregon USA @ DIVA
2007-03-07: live Sacramento California USA @ Lunas Caf?
2007-03-05: live on air Los Altos Hills CA USA KFJC 89.7 FM GROUNDSWELL
2007-03-04: live San Francisco California USA @ ArtSF
2006-12-03: live Portland Oregon USA @ Ground Kontrol retro arcade! F
2006-09-15: live Portland Oregon USA installation at North Coast Seed Building P
2006-09-08: live Portland Oregon USA @ CACOPHONY F
2006-08-12: live renegade performance Vancouver WA USA @ a parking lot P
2006-05-13: live Vancouver Washington USA @ Cooters Barn F
2005-09-??: BRIZBOMB begins




Other stuff:

Discography on Discogs: https://www.discogs.com
Sometimes performs live in other forms
Shoots live photos of others
Hosts shows at Westside Welding and Machine aka "the shack"
Sometimes does field recordings
Videos on vimeo
Videos on YouTube
Data sourcing on Facebook

Other distribution (past and present):

Fabrica Records (USA)
Somnolent Shelter Records (Poland)
Topheth Prophet (Israel)

HANSON RECORDS (USA)

Independent labels with past releases by BRIZBOMB:

Fabrica Records (USA)
Sound Maso Records (Germany)
Somnolent Shelter Records (Poland)
Cute Tapes (USA)
Barfing Dagger Re-Recordings (USA)



It started in 2005 by colliding electrons against ferromagnetic material on a ribbon of rust to eventually excite phosphors behind cathode ray tube unless the thermal velocity of the yoke over modulates and restricts the flow of 60/40 rosin core anodized black under a waveform monitor. Plaid vectors, white fur, hex schmitt triggers, oxygen free copper and temperatures above 50° are equally as important mediums as 70% cocao in this cross disciplinary multimedia artistic psychosis of technology and subconscious. Although our last meeting was transparent and fruitful, it lacked the negative induction that we once found to be entertaining with Society of Broadcast Engineers (SBE) certification knowledge fading like aging capacitors leaking AC to the tune of heavy drone torch ballads. Never again will the seeds of radioactive calcium sink into the teeth of wisdom. It is lost, abandoned, beyond all devilish corn binders and orphaned Studebakers. Geometric waves complete all Lucas powered memory cycles when planting ideas under the right moon with zero g's and quad switching cross-pollination of moods inside every high saline lagoon float tank - Laguna de On. The escape of Mariah for all things wide and far will benefit small flightless creatures and removal of all tin hats at the edge of cellular reception with full bellies of fry jacks - only possible with all switches in the British position.

Thanks to: Sharon Svec, ImLooLoo / Mark Howe, (co)sine / Josh, Geoff Walker, Ross Moore, Rich Lindsay, KBOO, Nathan Carson, Ogo Eion, Pulse Emitter, [view], Bob Bellerue, Don Haugen, Abraham Moses, the squarewave parade (TSP), Bug Brand, Barfing Dagger Re-Recordings, Cute Tapes, Sound Maso Records, Somnolent Shelter Records, Fabrica Records, Cory Haynes, Anthem Records, RRRecords, Andre Rosas, KOUG, Cara Cottingham, Dr. John F. Barber, Lars Larsen of LZX Industries, Dene Grigar, Jerry @ EmpowerUp, Robert Delahanty, Brady Beard of Fog Hill Pictures. Van mechanic: Chris Nye, Mad Max Creations. Fabrication: Chris Nye, Mark Brislawn, Bob Nicholson of Beaver Metal Products. Past pallbearers of the rack: Scott Ulrich, Matt Latorre, Andre Rosas, Alex Reyes, Mark Howe, Josh Shaff, Joe Haegele, Curtis Rochambeau, Jess, Nick Taskmaster, Ron Griefer, Mark Dodd